The Jamaica Centre of Tourism Innovation (JCTI) is a Division of the Tourism Enhancement Fund (TEF), an Agency of the Ministry of Tourism. The JCTI is tasked with facilitating the development of Jamaica's valuable human capital and support innovation for the tourism sector.
Tourism is central to Jamaica's national development. The goal of the programmes and activities of the Ministry of Tourism is to create jobs that redound to an improved quality of life for the average Jamaican. This programme aimed at the sustainable development of tourism rests on five pillars:
Human Capital Developments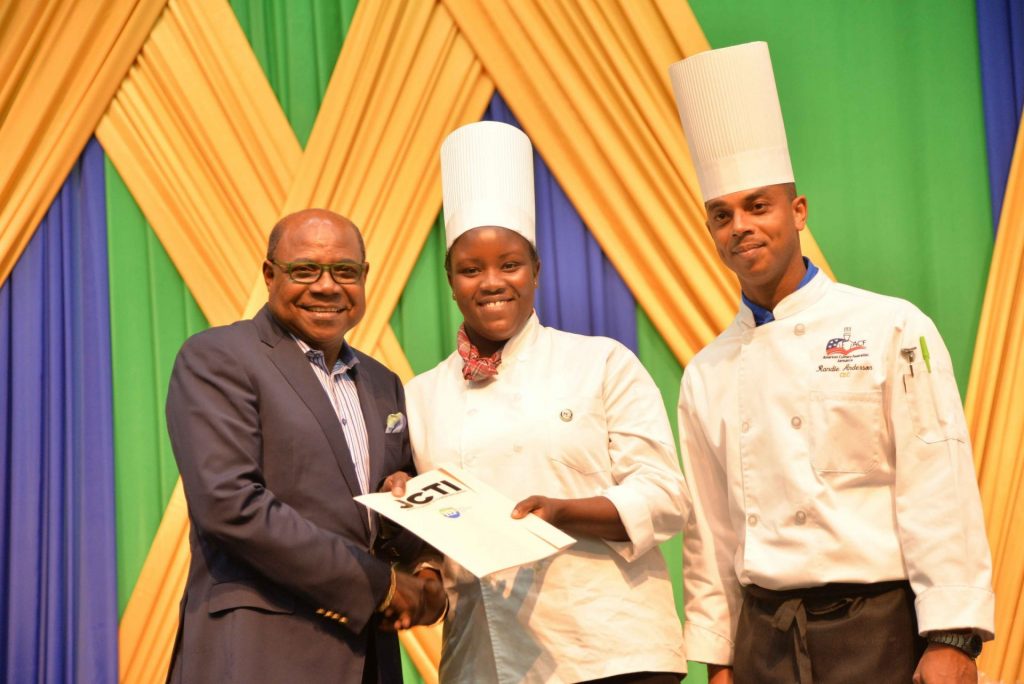 The Functions of the JCTI
The JCTI has four main functions, as follows:
To facilitate the certification and licensure of Jamaicans working in tourism
To facilitate the certification of students and graduates studying hospitality, tourism and culinary arts
The certification of faculty and tutors delivering these certification programmes to facilitate innovation in the tourism sector
To manage and execute the TEF Summer Internship Programme
Who Is Eligible to Apply for Certification?
There are three groups of persons eligible to apply for Certification:
Persons working in the tourism sector
Any person now working for a tourism organization can approach your HR Department and apply for certification through your employer. The employer pays for the certification.
College Students and recent Graduates
Any current student pursuing a degree in hospitality, tourism or culinary arts is eligible. There is no cost to students for certification. Any individual who graduated within the last eighteen (18) months with a degree in hospitality, tourism or culinary arts is eligible to apply for certification. There is no cost to recent graduates for certification.
Persons now working in tourism who wish to pursue certification independently, not through their employer
Any person now working for a tourism entity is entitled to apply for certification by submitting an application independently. There is a cost to this individual.
Jamaica Centre of Tourism innovation
Broaden you knowledge with the JCTI courses
The High School Programme
The JCTI spend a significant amount of time and resources on working with the Ministry of Education, Youth & Information (MEY&I) to facilitate the certification high school students. At the JCTI, this is seen as the population from which future tourism managers and supervisors will come, and so great care is taken with the development of these students. Currently JCTI, in collaboration with the MEY&I is rolling out the two-year Hospitality and Tourism Management Programme (HTMP). These young people will graduate with an AHLEI Certificate as well as an Associates Degree in Customer Service. Together, these young people will be ready for jobs in tourism as well as other commercial activities.
JCTI 2020 Online Graduation
In order to achieve these goals, the JCTI works through public and private sector partners, as well as local and international organizations. The list includes:
To ensure that the owners of hotels and attractions support this programme and are willing to provide opportunities for internships and collaborate to develop the skills their organizations require to remain competitive.
To ensure that all courses are aligned with local standards.
Will support the training and certification agenda to ensure that teachers, guidance counsellors and students in high school are aware of the opportunities available in tourism.
This is the association of local colleges and universities. The JCTE works closely with the JCTI to ensure that college faculty are certified to deliver certification and that students in colleges have access to certification programmes.
To ensure that Jamaicans have internationally benchmarked certification in hospitality and tourism to increase efficiency and competitiveness.
To ensure that Jamaicans have internationally benchmarked certification in culinary arts to support and to support efforts to promote Jamaica as a Gastronomy destination
Part of the Campari Group, partners with HEART and JCTI to develop training and certification programmes for bartenders
The JCTI will maintain a Registry of persons who are certified. This will include all persons receiving the following certifications facilitated through the JCTI:
Certified Hospitality Educator
Certified Hospitality Instructor
Certified Bartender Tutor
Certified Hospitality Supervisors
Certified Culinary Evaluator
Customer Service Gold Professional
Certified Hospitality Revenue Manager
Certified Food & Beverage Executive
Certified Hospitality Housekeeping Executive
Certified Hospitality Trainer
Certified Hotel Concierge
This Registry will also make it possible for:
Certified employees to upload and update their resumes
Employers may register their companies on the website and thus have access to this premier list of certified persons
Individuals to complete their initial applications for certification